A pocos días de la llega oficial de la versión final de iOS 8, Apple ha actualizado sus reglas de publicación para desarrolladores de aplicaciones. En esta renovada lista de reglas , los aspectos claves son el uso de HealthKit, HomeKit, TestFlight y Extensiones.
Junto a la guía de estilo, también se han conocido los motivos que podrán hacer que una aplicación desaparezca de la tienda de aplicaciones de Apple. Por ejemplo, nada de almacenar la información de HealtKit en iCloud. Un detalle que ahora da más lógica al chip NAND de 1GB de capacidad filtrado por los esquemas que GeekBar compartía. También los de todas aquellas aplicaciones que capturen datos del usuario sin su consentimiento.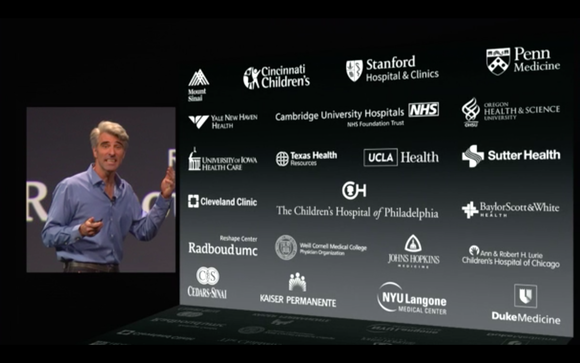 En temas de salud, también serán estrictos si existen aplicaciones que sin regulación y certificación previa ofrecen diagnósticos a los usuarios. Demostrando que la seguridad de los datos y del propio usuario es algo vital e importante para Apple. Algo que es lógico si quieren
conseguir luz verde por parte de las autoridades.
We're pleased that you want to invest your talents and time to develop applications for iOS. It has been a rewarding experience - both professionally and financially - for hundreds of thousands of developers and we want to help you join this successful group. We have published our App Store Review Guidelines in the hope that they will help you steer clear of issues as you develop your App and speed you through the approval process when you submit it.

We view Apps different than books or songs, which we do not curate. If you want to criticize a religion, write a book. If you want to describe sex, write a book or a song, or create a medical App. It can get complicated, but we have decided to not allow certain kinds of content in the App Store. It may help to keep some of our broader themes in mind:

We have lots of kids downloading lots of Apps. Parental controls work great to protect kids, but you have to do your part too. So know that we're keeping an eye out for the kids.

We have over a million Apps in the App Store. If your App doesn't do something useful, unique or provide some form of lasting entertainment, or if your app is plain creepy, it may not be accepted.

If your App looks like it was cobbled together in a few days, or you're trying to get your first practice App into the store to impress your friends, please brace yourself for rejection. We have lots of serious developers who don't want their quality Apps to be surrounded by amateur hour.

We will reject Apps for any content or behavior that we believe is over the line. What line, you ask? Well, as a Supreme Court Justice once said, "I'll know it when I see it". And we think that you will also know it when you cross it.

If your App is rejected, we have a Review Board that you can appeal to. If you run to the press and trash us, it never helps.

If you attempt to cheat the system (for example, by trying to trick the review process, steal data from users, copy another developer's work, or manipulate the ratings) your Apps will be removed from the store and you will be expelled from the developer program.

This is a living document, and new Apps presenting new questions may result in new rules at any time. Perhaps your App will trigger this.

Lastly, we love this stuff too, and honor what you do. We're really trying our best to create the best platform in the world for you to express your talents and make a living too. If it sounds like we're control freaks, well, maybe it's because we're so committed to our users and making sure they have a quality experience with our products. Just like almost all of you are, too.
25. Extensions
25.1 Apps hosting extensions must comply with the App Extension Programming Guide
25.2 Apps hosting extensions must provide some functionality (help screens, additional settings) or they will be rejected
25.3 Apps hosting extensions that include marketing, advertising, or in-app purchases in their extension view will be rejected
25.4 Keyboard extensions must provide a method for progressing to the next keyboard
25.5 Keyboard extensions must remain functional with no network access or they will be rejected
25.6 Keyboard extensions must provide Number and Decimal keyboard types as described in the App Extension Programming Guide or they will be rejected
25.7 Apps offering Keyboard extensions must have a primary category of Utilities and a privacy policy or they will be rejected
25.8 Apps offering Keyboard extensions may only collect user activity to enhance the functionality of their keyboard extension on the iOS device or they may be rejected
26. HomeKit
26.1 Apps using the HomeKit framework must have a primary purpose of providing home automation services
26.2 Apps using the HomeKit framework must indicate this usage in their marketing text and they must provide a privacy policy or they will be rejected
26.3 Apps must not use data gathered from the HomeKit APIs for advertising or other use-based data mining
26.4 Apps using data gathered from the HomeKit API for purposes other than improving the user experience or hardware/software performance in providing home automation functionality will be rejected
27. HealthKit
27.1 Apps using the HealthKit framework must comply with applicable law for each Territory in which the App is made available, as well as Sections 3.3.28 and 3.39 of the iOS Developer Program License Agreement
27.2 Apps that write false or inaccurate data into HealthKit will be rejected
27.3 Apps using the HealthKit framework that store users' health information in iCloud will be rejected
27.4 Apps may not use user data gathered from the HealthKit API for advertising or other use-based data mining purposes other than improving health, medical, and fitness management, or for the purpose of medical research
27.5 Apps that share user data acquired via the HealthKit API with third parties without user consent will be rejected
27.6 Apps using the HealthKit framework must indicate integration with the Health app in their marketing text and must clearly identify the HealthKit functionality in the app's user interface
27.7 Apps using the HealthKit framework must provide a privacy policy or they will be rejected
27.8 Apps that provide diagnoses, treatment advice, or control hardware designed to diagnose or treat medical conditions that do not provide written regulatory approval upon request will be rejected
28. TestFlight
28.1 Apps may only use TestFlight to beta test apps intended for public distribution and must comply with the full App Review Guidelines
28.2 Apps using TestFlight must be submitted for review whenever a build contains material changes to content or functionality
28.3 Apps using TestFlight may not be distributed to testers in exchange for compensation of any kind
Más información | App Store Review Guidelines